September 9th, 2017 . by Cary

Yuk Ping Wong, 47, died when the World Trade Center was attacked on the morning of September 11, 2001. "Winnie" was training to be a tax auditor for the State of New York in the Department of Taxation and Finance, a position she had been hired for the previous June.
Yuk Ping Wong had moved to the United States from Hong Kong after marrying Chung-Ping Wong. She was a mother of two, Eddie, now 26, and Christopher, now 22, who were living with their father in Brooklyn. They had divorced in 1996, and Winnie pursued her dream of a college education, graduating in 1999 with honors with a degree in accounting from Bernard M. Baruch College in Manhattan. She was a member of Beta Alpha Psi and the Golden Key Accounting Society.
Winnie worked on the 86th floor of the south tower. She was last seen by co-workers on the 78th floor, waiting for a transfer elevator to the ground floor.
She had been taking classes in preparation for baptism at the Chinese Alliance Church, where a memorial service was held on October 13, 2001. According to her sisters and her co-workers, she felt she had found her niche and was devoting her life to her job; she sang in the choir at the Chinese Alliance Church; she was cheerful, happy, and brilliant; a person who loved shopping and dining out.
Besides her two sons, Yuk Ping Wong was survived by her mother, Yue-Ying Leung, and her father, Siu-Tak Leung, of Brooklyn; a brother, Wai-Hung "Daniel" Leung of San Francisco, and five sisters: Ariane Yuk-Ling Leung, Kit-Ching Mak and Tsui-Sim "Zoe" Leung of Brooklyn; Fuscat Yim-Fong Leung of Hong Kong, and Jacqueline Leung of Vancouver.
Ariane Leung wrote in a tribute, "News of the World Trade Center attack terribly impacted our family. We have, however, found much hope and comfort in the midst of the tragedy. We know Winnie has moved onward, to the sweetest home in heaven, a place where she is happily staying. There we shall all meet again one day."
====
My condolences go out, again, to all the family members of the victims of the coordinated terrorist attacks on 9/11/01. We cannot ever imagine the loss you have suffered; we can only remain vigilant against such an attack in the future.
I would like to thank Carl MacGowan of Newsday for the bulk of the information included in this memorial, also available here.
On September 9, 2017, as a member of the Patriot Guard Riders, it was an honor to stand a flagline for the second annual Stephen Siller Tunnel To Tower 5k held at the Tempe Town Lake Healing Fields in Tempe, Arizona.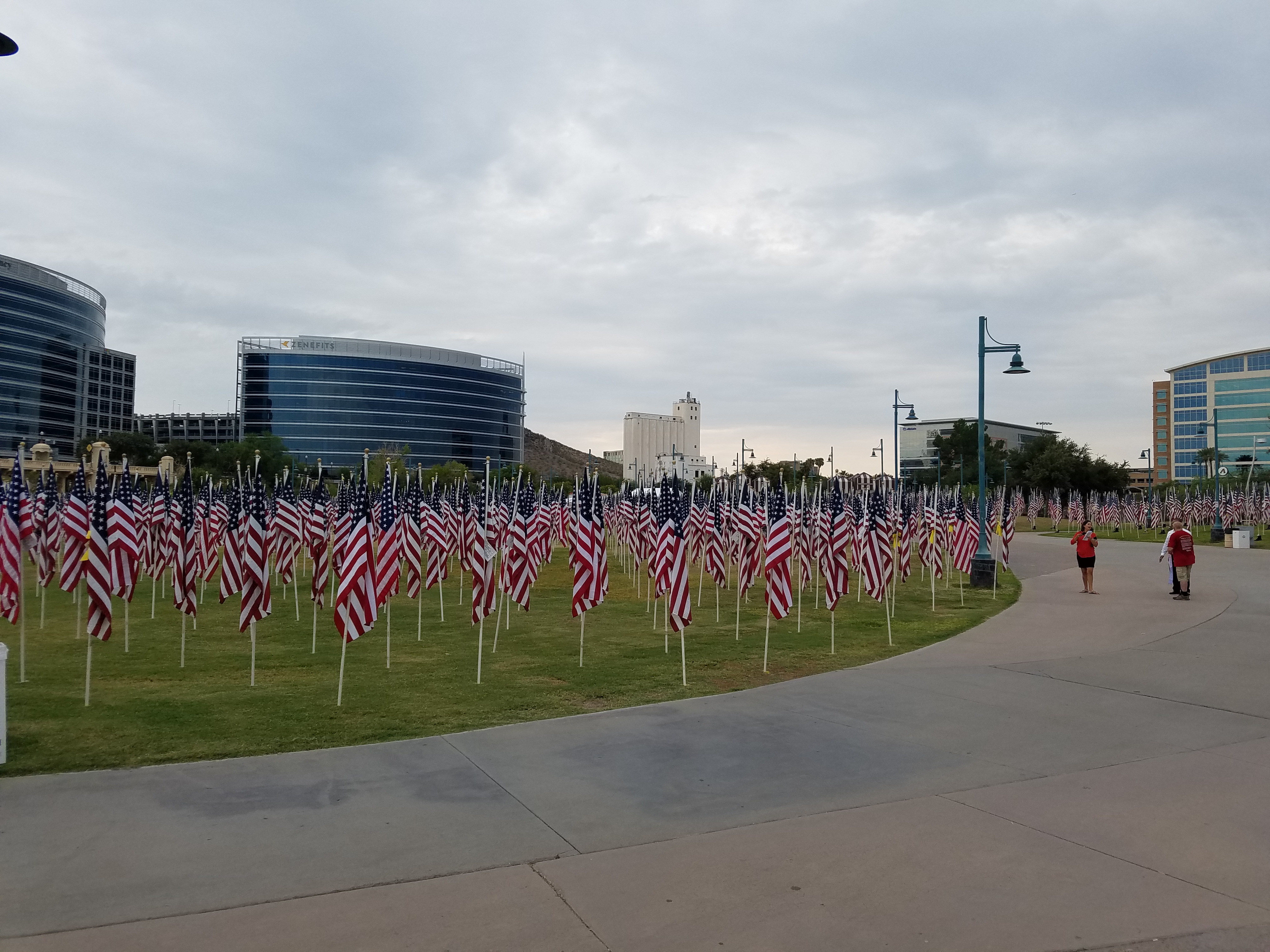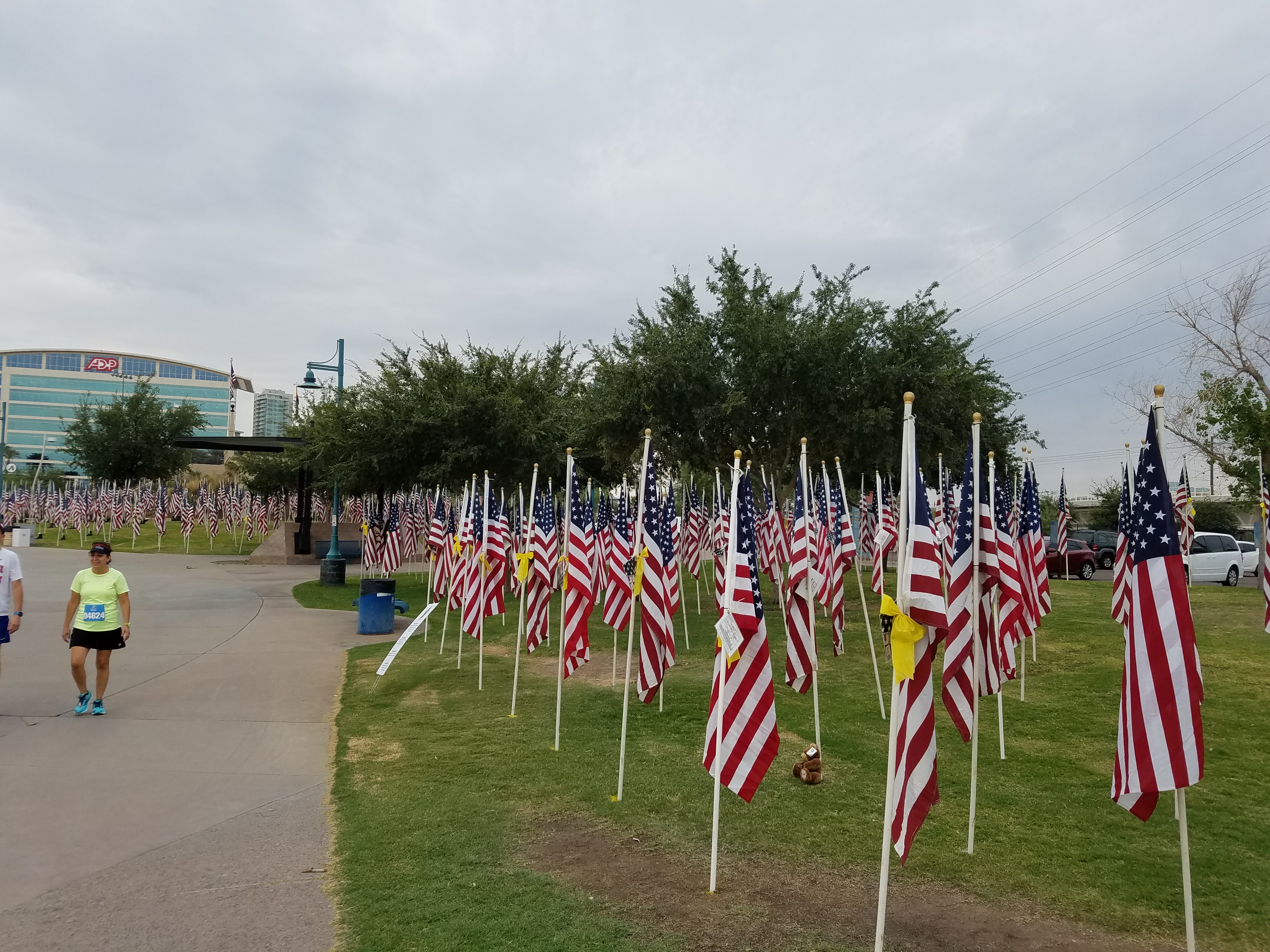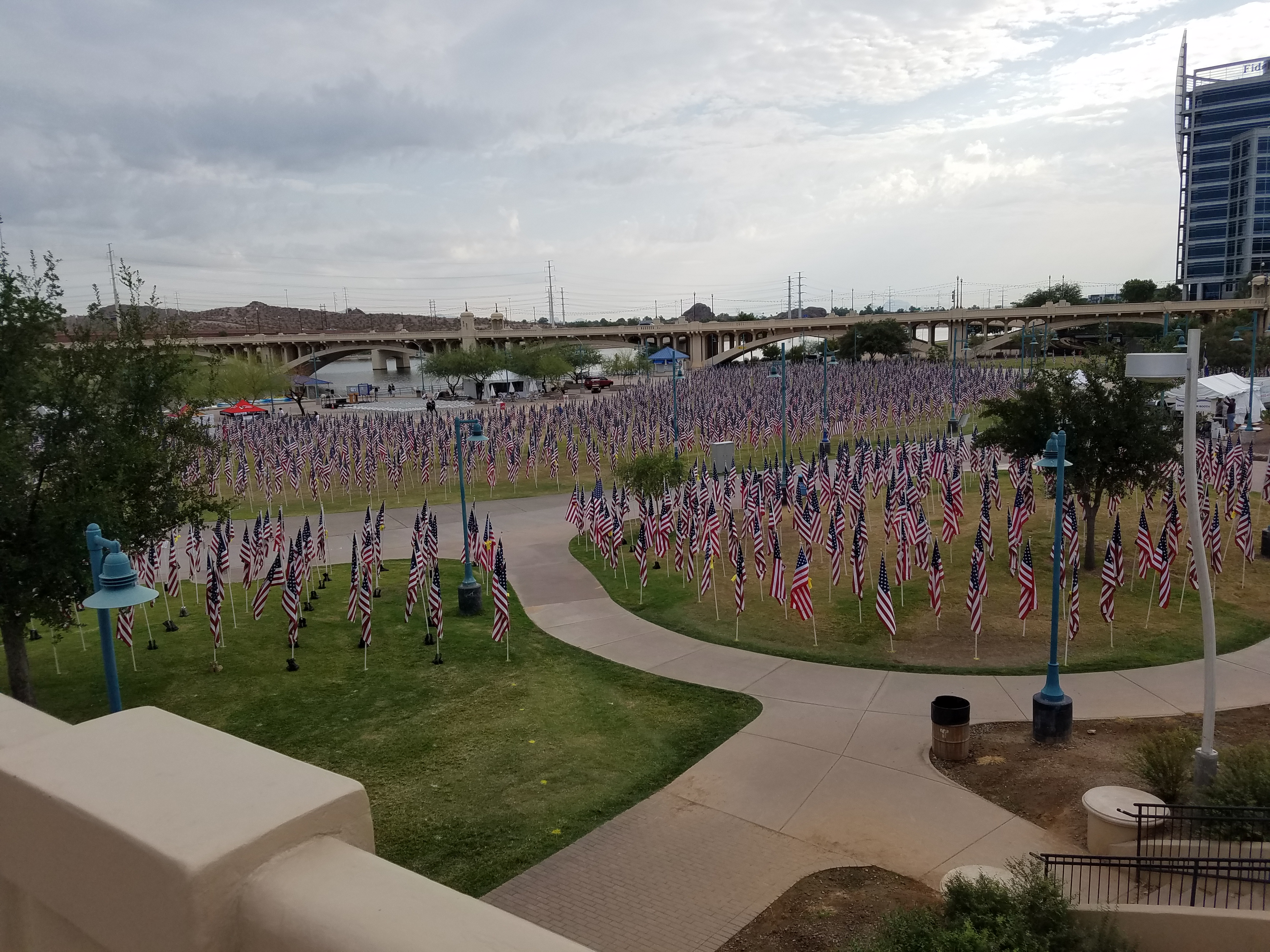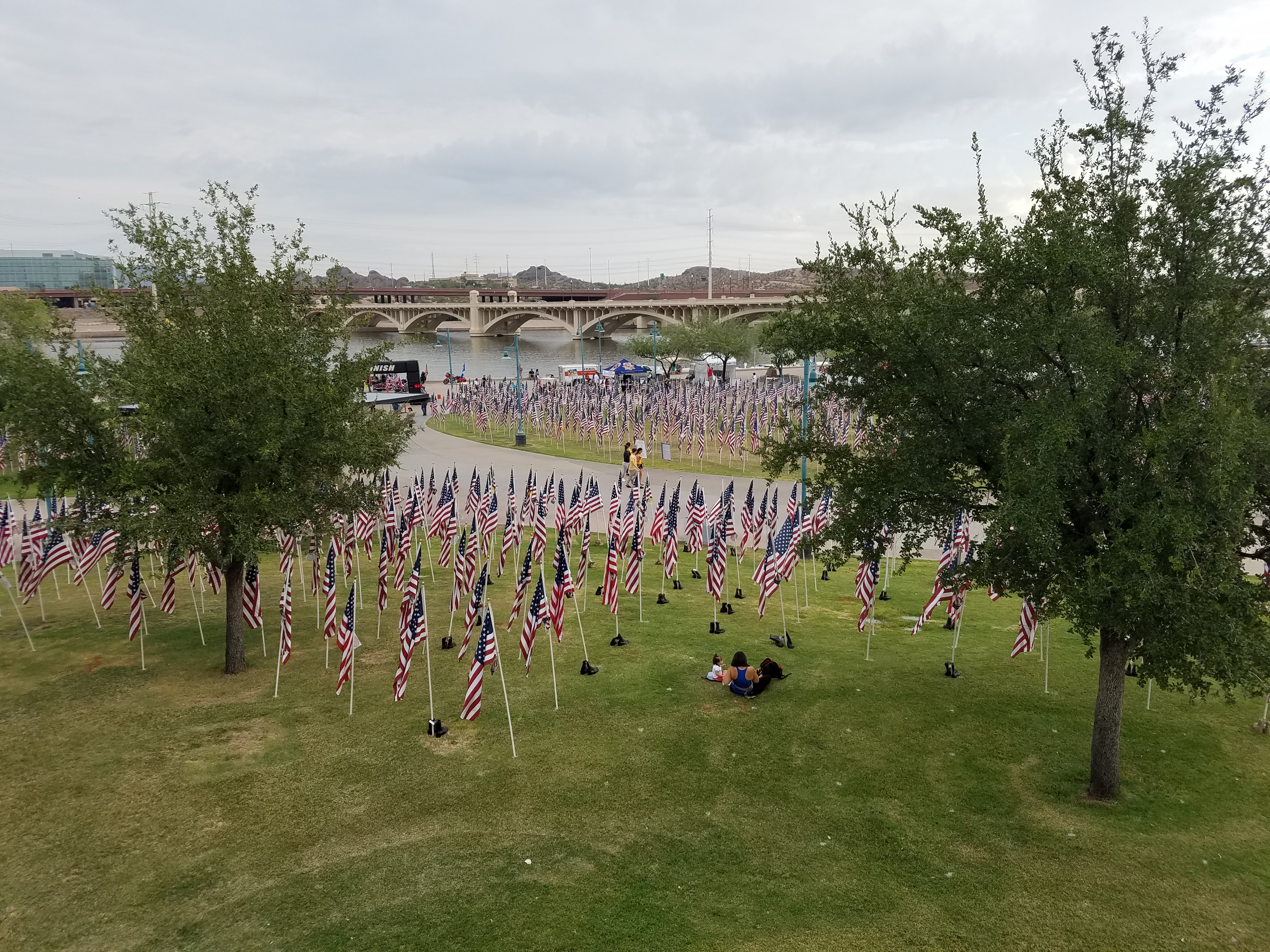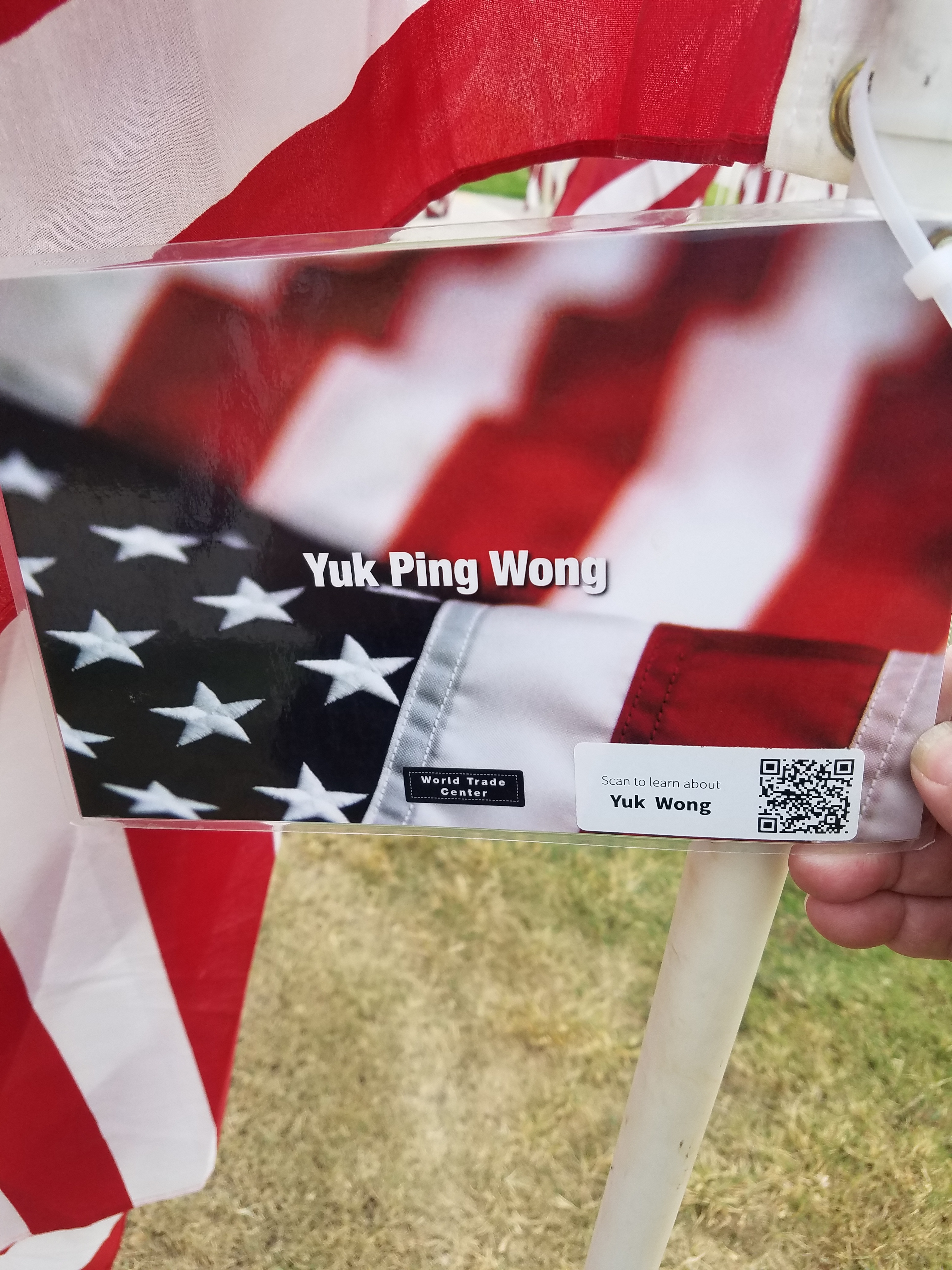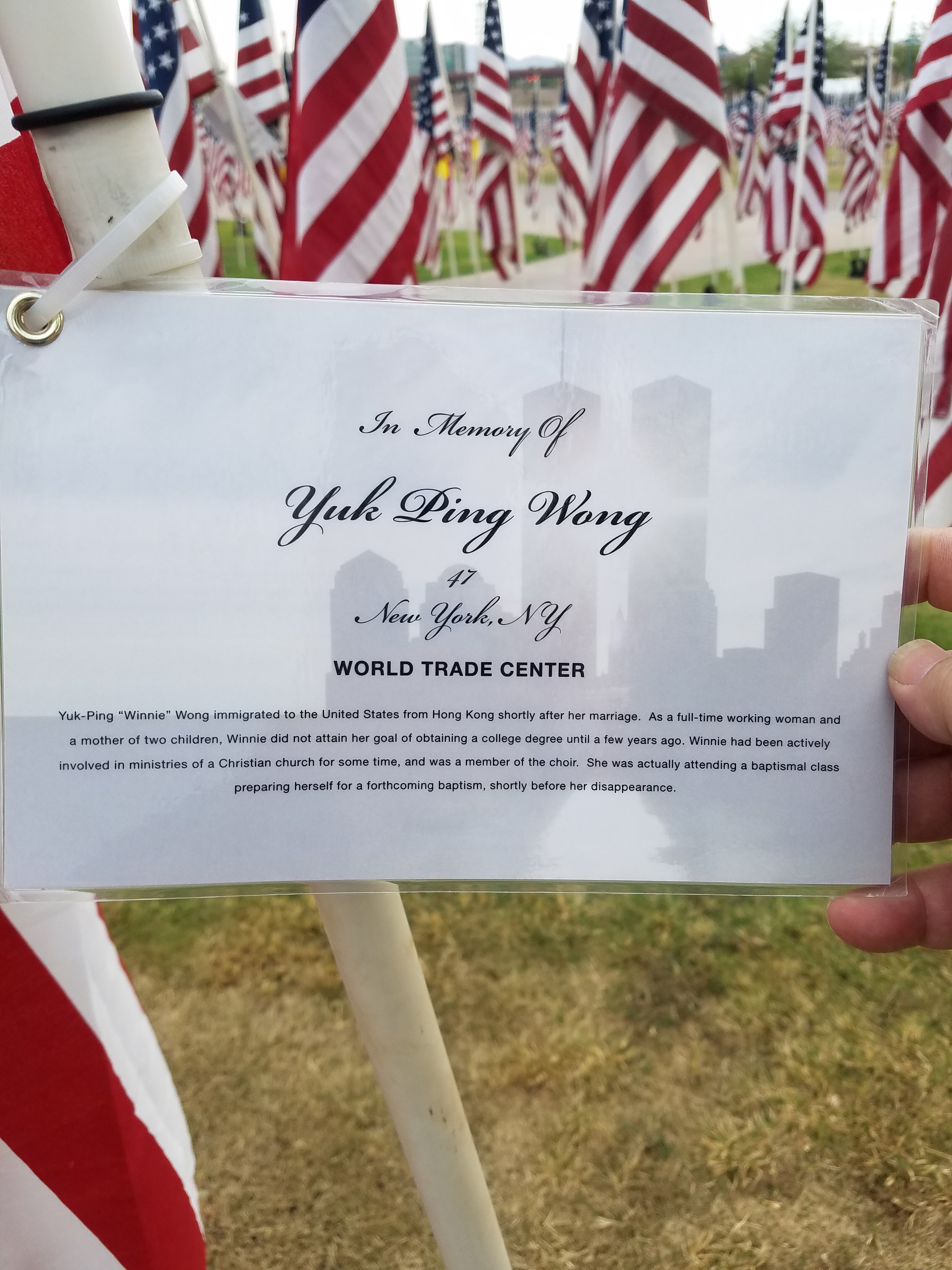 The magnitude of the loss of life that day was echoed on the fields of flags. The sense of remembrance as one walks though that field is palpable, heavy, yet uplifting. If you have the opportunity, go.